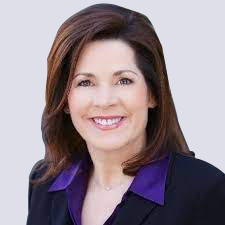 Senior Vice President, Academic Operations
Senior Vice President, Academic Operations
As an accomplished and transformational leader, Dr. Sweeney has dedicated her career to improving higher education outcomes and successfully guiding institutions through periods of tremendous growth and change. Dr. Sweeney is known for providing cross-functional leadership and implementing innovative initiatives whereby new revenue streams and efficiencies have been realized for the institutions she has served.
Dr. Sweeney's previous roles include President of Bay State College in Boston, Chief Administrative Officer (CAO) at Southern New Hampshire University (SNHU), and executive-level positions at DeVry University and The Art Institutes, where she led successful turnarounds and start-ups. During her tenure as CAO at SNHU, Dr. Sweeney successfully built infrastructure in various university services departments (traditional campus, online, and the College for America direct assessment) supporting the early years of SNHU's exponential growth and innovative culture.
Additionally, Dr. Sweeney has served as a Commissioner for the New England Commission on Higher Education (NECHE) and as team chair for multiple NECHE evaluation visits, both domestic and international, and continues to serve in this capacity.
Dr. Sweeney earned her Doctorate in Higher Education Management (Ed.D.) from the University of Pennsylvania. Her dissertation topic, How Innovative Strategies Can Impact Fiscal Strength: Supporting a Culture of Innovation at Small Colleges, is a potential best practices list for small colleges interested in using innovative strategies to become financially sustainable while improving the student experience. Dr. Sweeney holds a Master of Arts degree in Educational Leadership from Antioch University, McGregor and a Bachelor of Arts degree in Communications & Rhetoric from the University of Pittsburgh.
Dedicated to serving her community, Dr. Sweeney has been a long time Board Member for the Boston Center for the Arts, an advisory member and supporter of the Massachusetts General Hospital's (MGH) Depression Clinical and Research Program (DCRP) and the MGH Gordon Center for Medical Imaging.  Additionally, Dr. Sweeney serves on the Board for Les Roches Global Hospitality Education in Crans-Montana, Switzerland.